Surrounding ski resorts & local culture
Madarao is located in the north eastern part of Nagano Prefecture, on the border of Niigata Prefecture.
Madarao forms a "Hub" around which are various attractions and resorts.
Close to neighbouring ski slope. Just 40 minutes to both Nozawa Onsen and Myoko Kogen.
Madarao is a great place to set up base and take day trips to surrounding resorts.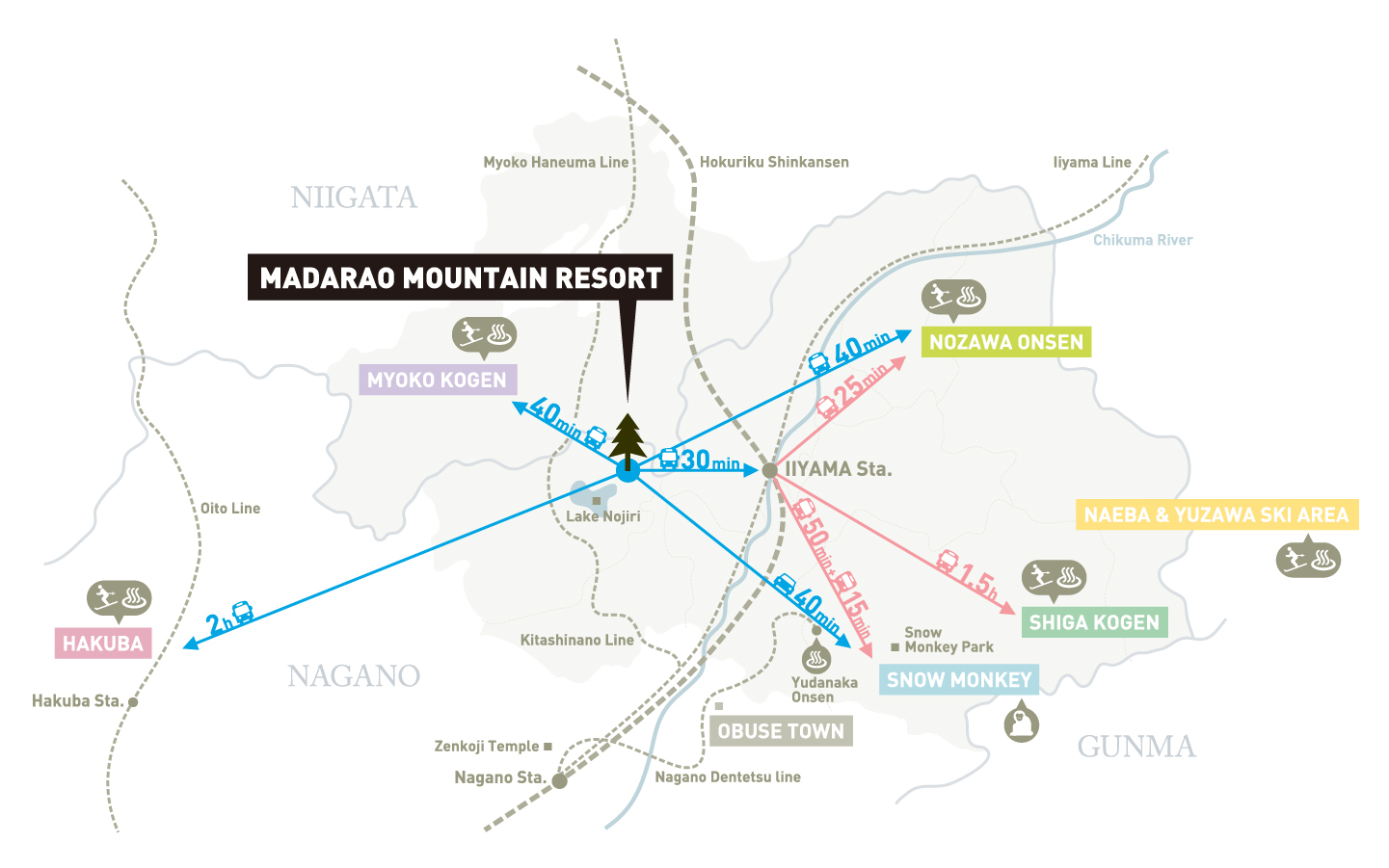 Bullet Train [Shinkansen]
Tokyo to Iiyama
Getting to Madarao is now speedier than ever thanks to the opening of Iiyama Station. A 110-minute Bullet Train ride from Tokyo to Iiyama, and a 30 minute bus/car ride to Madarao, and you are ready to hit the slopes.
The Shinkansen also makes visiting Kyoto via Kanazawa quick and easy!
Passengers transferring from Narita Airport can board the Keisei Skyliner to Ueno Station frequent departures from airport rail terminal. Travering time to Ueno takes around 1 hour
Passengers transferring from Haneda Airport can board the Monorail to Hamamatsucho Station. From Hamamatsucho Station transferring to Tokyo Station takes around 20 minutes
Departing from Tokyo Station to Iiyama Station via Ueno, passengers can board the "Hakutaka" Bullet Train frequent departures throughout the day.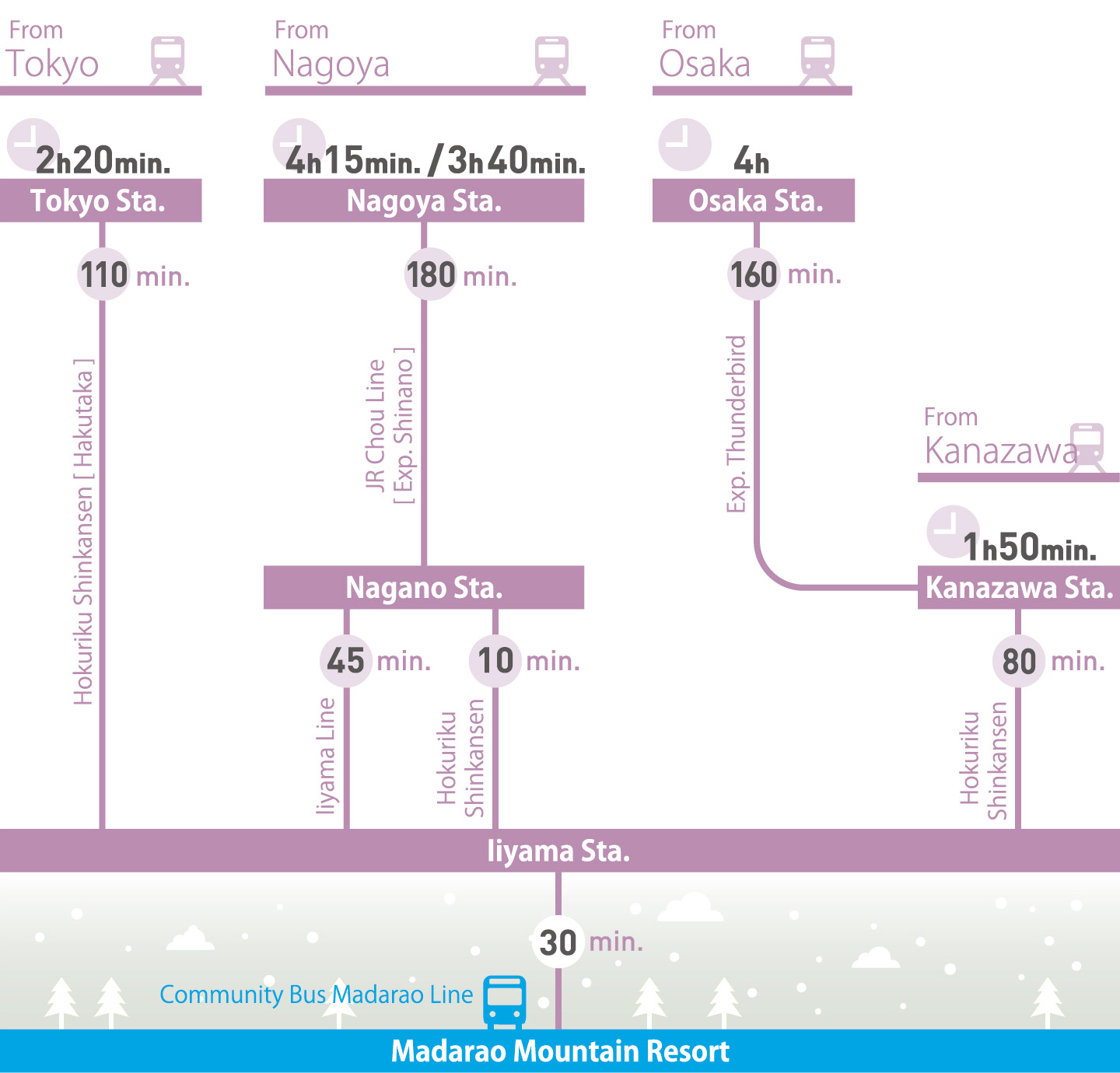 Jump on to the Direct local Bus to Madarao from Iiyama Station. The number of direct buses may be limited.
Please check the time-table carefully.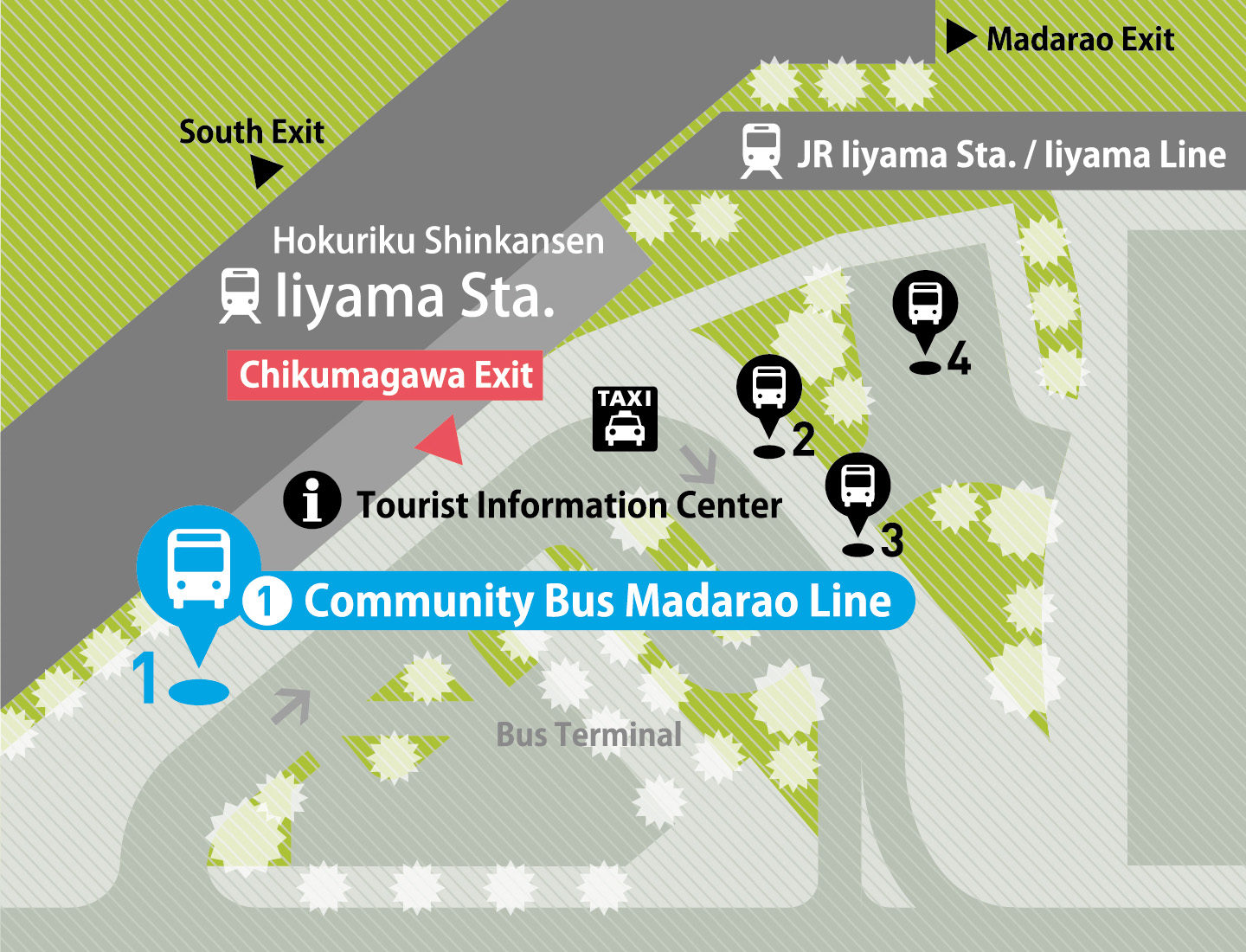 Local taxi is also available :approxi.5,000JPY. Travelling time 30 minutes.
Direct Bus – Nagano Snow Shuttle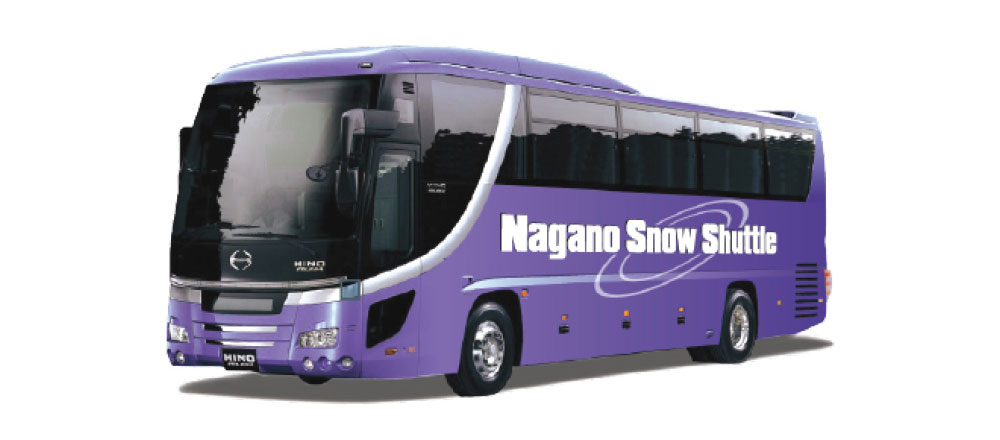 Narita / Haneda Airport to Madarao
The stress free way to get to Madarao! It's safe,confortable and affordable.
– No hauling your laggage through crowded stations
– English speaking Staff at Airports
– Drop off service available for all night time arrivals
– Accomodation is informed of your arrival in Madarao
Fares
10,200〜11,900 JPY

(per person/One-way)
Narita / Haneda Airport to Madarao
Chuo Taxi
Reach Madarao directly from Narita and Haneda Airport without changing in Tokyo with the airport shared taxi.
Convenience and ease, and guranteed security.
Cost
approx. 13,500 JPY

(per person/One-way)
Transferring to other resorts
From the top of Mt.Madarao, you can both spectacular Myoko and Nozawa. Local buses and Inter resort shuttle service are available between these resorts.
Inter Resort Shuttle (Nagano Snow Shuttle 2022 – 23)
| Inter Resort Shuttle Fares | /person |
| --- | --- |
| Hakuba – Madarao | Starting from 5,000 JPY |
| Shigakogen* – Madarao | Starting from 4,500 JPY |
| Nozawa Onsen – Madarao | Starting from 5,000 JPY |
| Myoko Kogen, Lotte Arai – Madarao | Starting from 5,000 JPY |
| Nagano Station – Madarao | Starting from 5,000 JPY |
*Includes drop of / pick up at accommodation
Madarao – Nozawa Onsen


(NoToMa Shuttle Bus)

1,200 JPY
Madarao – Myoko


(Myoko Kogen Bus)

1,500 JPY